Accommodation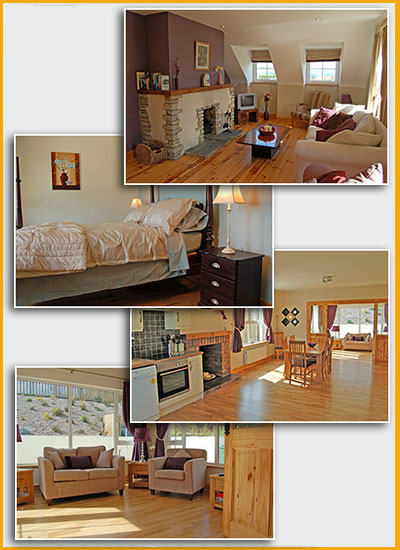 Our holiday homes are spacious, modern and beautifully presented.
The accommodation and the local area make them a perfect location for family holidays, family gatherings, golf and activity holidays and more.
Kitchen and Dining Area
The holiday homes have a large open plan ground floor featuring a fully fitted kitchen, dining area and conservatory. The elegant dining table can comfortable accommodate 8 people. The dining area opens into the spacious and beautifully furnished conservatory. An equally spacious kitchen completes the open plan area. The fully fitted kitchen has all the modern appliances you would expect to find in a luxury self catering holiday home.
Living Room
The living room of the holiday cottages is located on the first floor and enjoys wonderful views. It is tastefully furnished and decorated and features a luxury leather suite. A large open fireplace gives the room a cosy feeling. For home entertainment there is a TV and DVD Player.
Conservatory
The holiday homes have a spacious and tastefully furnished  conservatory. The double doors lead out to large back garden area. The conservatory will enable you to enjoy the peaceful and tranquil surrounding of the holiday cottages no matter what the weather.
Bedrooms
The holiday homes have 4  beautifully decorated bedrooms to sleep 8 comfortably
1 x double – ground floor
1 x twin – ground floor
1 x double – first floor
1 x twin – first floor
There is a bathroom on the first flloor and a shower room on the ground floor.
Our large indoor play area is guaranteed to keep children amused. See photos in our gallery…